Multi-axis EtherCAT Bridge for Cool Muscle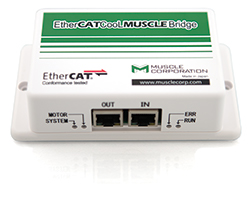 The EtherCAT Cool Muscle Bridge is Muscle Corporation's new 4-axis interface for EtherCAT networks. Four CM1 or CM2 motors can be connected to each bridge allowing for control of the Cool Muscles as an EtherCAT slave from an EtherCAT Master across a high performance network.
The application layer conforms to the CiA402 Drive Profile, with operation modes including Cyclic Synchronous Position mode (csp) and Homing mode (hm). The EtherCAT Master sends position commands to, and receives feedback from the EtherCAT Slave at a communications frequency of 1msec. Additional motion and data settings are accessible by using Cool Muscle specific commands.
The parameters of Cool Muscle can be read and written from the EtherCAT master to EtherCAT slaves using the Mailbox function. Direct Command to Cool Muscle can also be implemented by using the Mailbox function.
EB01/EB02/EB12 Cool Muscle EtherCAT Bridge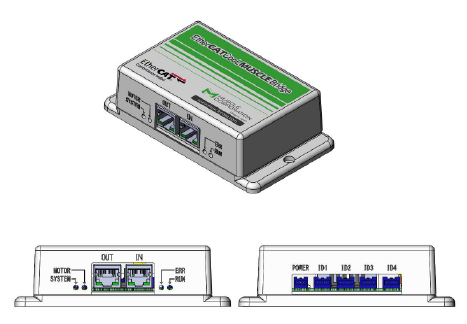 | Name | Product Code | Description |
| --- | --- | --- |
| CM1 EtherCAT Cool MUSCLE Bridge | EB01 | Connect up to 4pcs of CM1 |
| CM2 EtherCAT Cool MUSCLE Bridge | EB02 | Connect up to 4pcs of CM2 |
| CM1& CM2 EtherCAT Cool MUSCLE Bridge | EB12 | Connect up to 2pcs of each CM1 & CM2 |
Cables



| Name | Product Code | Description |
| --- | --- | --- |
| CM1 Bridge Cable | CM1EB1-2000W (EH01-2000W) | CM1 to EB1 Communications and Power Y-Cable |
| CM2 Bridge Cable | CM2EB2-2000W (EH02-2000W) | CM2 to EB2 Communications Cable |
| Bridge Power Cable | EBPWR-2000S (EHPW-2000S) | EtherCAT Bridge Power Cable |
Documents and Software