Couplings
Features
Specs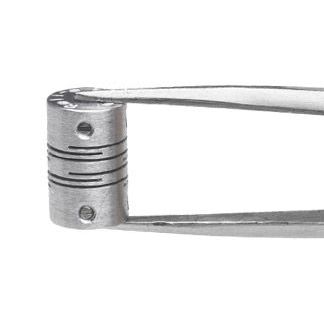 | | |
| --- | --- |
| Material | 7075-T6 |
| Backlash (arc/min) | 0 |
| Max Mass (g) | .65 |
| Standard bore sizes (mm) | 1.5, 2 and 3 |
| Maximum Speed (rpm) | 70,000 |
| Typical Torque Capacity (Reversing) (Nm) | 0.10 |
| Typical Torque Capacity (Non Rev (Nm) | 0.15 |
| Typical Torque Capacity (Peak) (Nm) | 0.25 |
| Torsional Stiffness (mNm/arc min) | 1.22 |
| Radial Compliance (microns/N) | 21.0 |
| Misalignment Parallel (mm) | 0.02 |
| Misalignment Angular (deg) | 1.7 |
| Misalignment Axial (mm) | 0.06 |
Downloads
| | | |
| --- | --- | --- |
| | RCSA6 | CAD files: .IGS, .X_B, and .STEP |
Options
---
Features
Specs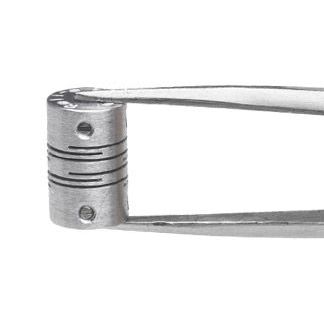 | | |
| --- | --- |
| Material | 7075-T6 |
| Backlash (arc/min) | 0 |
| Max Mass (g) | 0.95 |
| Standard bore sizes (mm) | 1.5, 2 and 3 |
| Maximum Speed (rpm) | 32,000 |
| Typical Torque Capacity (Reversing) (Nm) | 0.10 |
| Typical Torque Capacity (Non Rev (Nm) | 0.15 |
| Typical Torque Capacity (Peak) (Nm) | 0.25 |
| Torsional Stiffness (mNm/arc min) | 1.25 |
| Radial Compliance (microns/N) | 79.0 |
| Misalignment Parallel (mm) | 0.04 |
| Misalignment Angular (deg) | 1.7 |
| Misalignment Axial (mm) | 0.06 |
Downloads
| | | |
| --- | --- | --- |
| | RCLA6 | CAD files: .IGS, .X_B, and .STEP |
Options
---
Features
Specs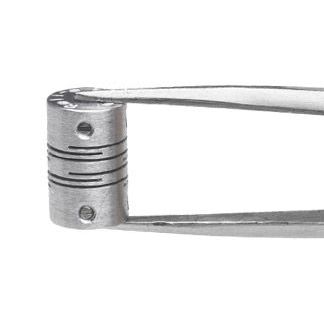 | | |
| --- | --- |
| Material | 7075-T6 |
| Backlash (arc/min) | 0 |
| Max Mass (g) | 1.30 |
| Standard bore sizes (mm) | 2, 3 and 4 |
| Maximum Speed (rpm) | 40,000 |
| Typical Torque Capacity (Reversing) (Nm) | 0.20 |
| Typical Torque Capacity (Non Rev (Nm) | 0.30 |
| Typical Torque Capacity (Peak) (Nm) | 050 |
| Torsional Stiffness (mNm/arc min) | 2.53 |
| Radial Compliance (microns/N) | 35.0 |
| Misalignment Parallel (mm) | 0.05 |
| Misalignment Angular (deg) | 2.0 |
| Misalignment Axial (mm) | 0.10 |
Downloads
| | | |
| --- | --- | --- |
| | RCSA8 | CAD files: .IGS, .X_B, and .STEP |
Options
---
Features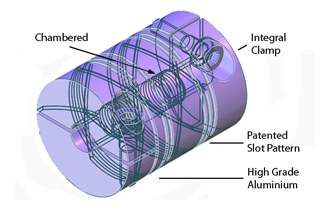 Specs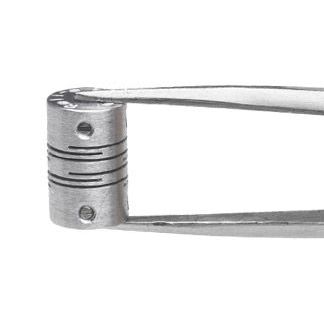 | | |
| --- | --- |
| Material | 7075-T6 |
| Backlash (arc/min) | 0 |
| Max Mass (g) | 1.70 |
| Standard bore sizes (mm) | 2, 3 and 4 |
| Maximum Speed (rpm) | 24,000 |
| Typical Torque Capacity (Reversing) (Nm) | 0.20 |
| Typical Torque Capacity (Non Rev (Nm) | 0.30 |
| Typical Torque Capacity (Peak) (Nm) | 0.50 |
| Torsional Stiffness (mNm/arc min) | 2.53 |
| Radial Compliance (microns/N) | 102.0 |
| Misalignment Parallel (mm) | 0.10 |
| Misalignment Angular (deg) | 2.0 |
| Misalignment Axial (mm) | 0.10 |
Downloads
| | | |
| --- | --- | --- |
| | RCLA8 | CAD files: .IGS, .X_B, and .STEP |
Options
---
Features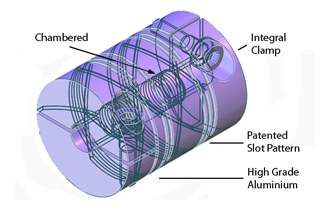 Specs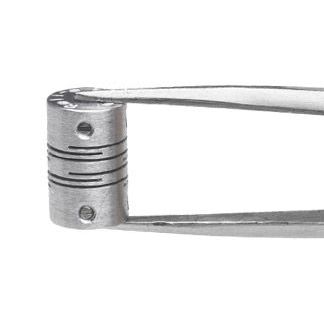 | | |
| --- | --- |
| Material | 7075-T6 |
| Backlash (arc/min) | 0 |
| Max Mass (g) | 2.30 |
| Standard bore sizes (mm) | 3, 4 and 5 |
| Maximum Speed (rpm) | 35,000 |
| Typical Torque Capacity (Reversing) (Nm) | 0.30 |
| Typical Torque Capacity (Non Rev (Nm) | 0.45 |
| Typical Torque Capacity (Peak) (Nm) | 0.75 |
| Torsional Stiffness (mNm/arc min) | 4.89 |
| Radial Compliance (microns/N) | 28.0 |
| Misalignment Parallel (mm) | 0.06 |
| Misalignment Angular (deg) | 2.0 |
| Misalignment Axial (mm) | 0.17 |
Downloads
| | | |
| --- | --- | --- |
| | RCSA10 | CAD files: .IGS, .X_B, and .STEP |
Options
---
Features
Specs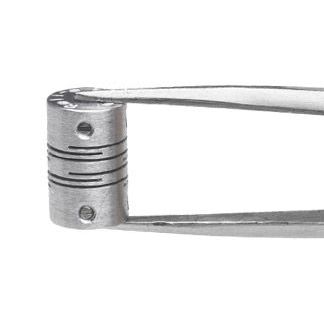 | | |
| --- | --- |
| Material | 7075-T6 |
| Backlash (arc/min) | 0 |
| Max Mass (g) | 3.00 |
| Standard bore sizes (mm) | 3, 4 and 5 |
| Maximum Speed (rpm) | 22,000 |
| Typical Torque Capacity (Reversing) (Nm) | 0.30 |
| Typical Torque Capacity (Non Rev (Nm) | 0.45 |
| Typical Torque Capacity (Peak) (Nm) | 0.75 |
| Torsional Stiffness (mNm/arc min) | 4.89 |
| Radial Compliance (microns/N) | 83.0 |
| Misalignment Parallel (mm) | 0.12 |
| Misalignment Angular (deg) | 2.0 |
| Misalignment Axial (mm) | 0.17 |
Downloads
| | | |
| --- | --- | --- |
| | RCLA10 | CAD files: .IGS, .X_B, and .STEP |
Options
---
Features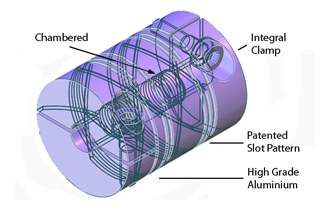 Specs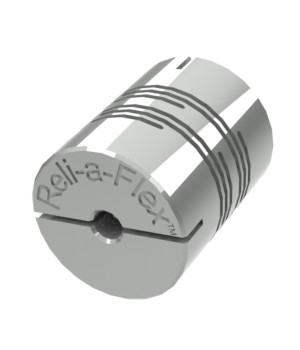 | | |
| --- | --- |
| Material | 7075-T6 |
| Backlash (arc/min) | 0 |
| Max Mass (g) | 4.4 |
| Standard bore sizes (mm) | 3, 4, 5 & 6 |
| Maximum Speed (rpm) | 12,000 |
| Typical Torque Capacity (Reversing) (Nm) | 0.35 |
| Typical Torque Capacity (Non Rev (Nm) | .055 |
| Typical Torque Capacity (Peak) (Nm) | 0.80 |
| Torsional Stiffness (mNm/arc min) | 13.09 |
| Radial Compliance (microns/N) | 29.2 |
| Misalignment Parallel (mm) | 0.08 |
| Misalignment Angular (deg) | 2.5 |
| Misalignment Axial (mm) | 0.30 |
Downloads
Options
---
Features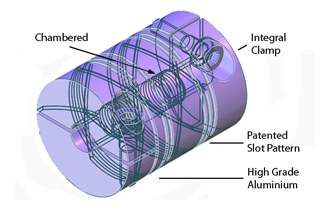 Specs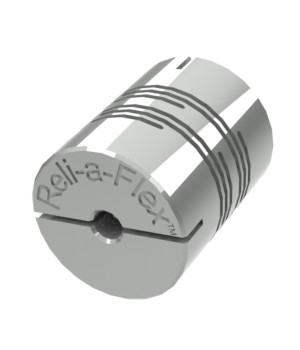 | | |
| --- | --- |
| Material | 7075-T6 |
| Backlash (arc/min) | 0 |
| Max Mass (g) | 5.5 |
| Standard bore sizes (mm) | 3, 4, 5 & 6 |
| Maximum Speed (rpm) | 12,000 |
| Typical Torque Capacity (Reversing) (Nm) | 0.35 |
| Typical Torque Capacity (Non Rev (Nm) | 0.55 |
| Typical Torque Capacity (Peak) (Nm) | 0.80 |
| Torsional Stiffness (mNm/arc min) | 15.56 |
| Radial Compliance (microns/N) | 64.3 |
| Misalignment Parallel (mm) | 0.15 |
| Misalignment Angular (deg) | 2.5 |
| Misalignment Axial (mm) | 0.30 |
Downloads
Options
---
Features
Specs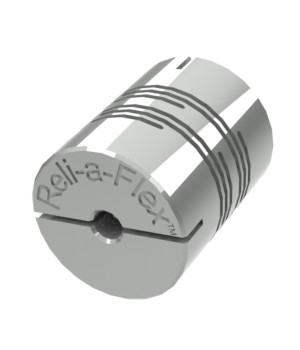 | | |
| --- | --- |
| Material | 7075-T6 |
| Backlash (arc/min) | 0 |
| Max Mass (g) | 8.2 |
| Standard bore sizes (mm) | 3, 4, 5, 6 & 8 |
| Maximum Speed (rpm) | 10,000 |
| Typical Torque Capacity (Reversing) (Nm) | 0.55 |
| Typical Torque Capacity (Non Rev (Nm) | 0.85 |
| Typical Torque Capacity (Peak) (Nm) | 1.25 |
| Torsional Stiffness (mNm/arc min) | 19.49 |
| Radial Compliance (microns/N) | 28.9 |
| Misalignment Parallel (mm) | 0.10 |
| Misalignment Angular (deg) | 2.5 |
| Misalignment Axial (mm) | 0.40 |
Downloads
Options
---
Features
Specs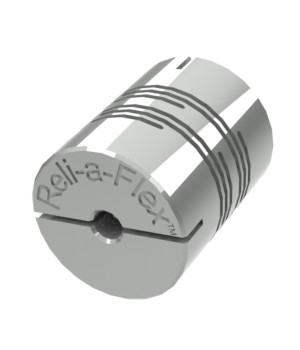 | | |
| --- | --- |
| Material | 7075-T6 |
| Backlash (arc/min) | 0 |
| Max Mass (g) | 10.1 |
| Standard bore sizes (mm) | 3, 4, 5, 6 & 8 |
| Maximum Speed (rpm) | 10,000 |
| Typical Torque Capacity (Reversing) (Nm) | 0.55 |
| Typical Torque Capacity (Non Rev (Nm) | 0.85 |
| Typical Torque Capacity (Peak) (Nm) | 1.25 |
| Torsional Stiffness (mNm/arc min) | 23.56 |
| Radial Compliance (microns/N) | 65.1 |
| Misalignment Parallel (mm) | 0.20 |
| Misalignment Angular (deg) | 2.5 |
| Misalignment Axial (mm) | 0.40 |
Downloads
Options
---
Features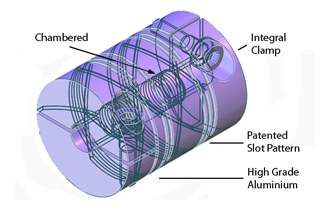 Specs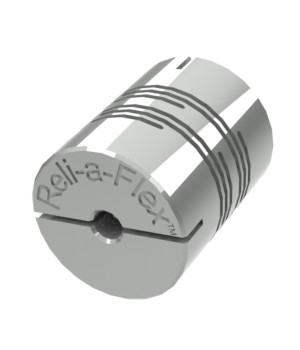 | | |
| --- | --- |
| Material | 7075-T6 |
| Backlash (arc/min) | 0 |
| Max Mass (g) | 14.3 |
| Standard bore sizes (mm) | 4, 5, 6, 8 & 10 |
| Maximum Speed (rpm) | 7,500 |
| Typical Torque Capacity (Reversing) (Nm) | 0.95 |
| Typical Torque Capacity (Non Rev (Nm) | 1.45 |
| Typical Torque Capacity (Peak) (Nm) | 2.45 |
| Torsional Stiffness (mNm/arc min) | 31.27 |
| Radial Compliance (microns/N) | 23.4 |
| Misalignment Parallel (mm) | .012 |
| Misalignment Angular (deg) | 3 |
| Misalignment Axial (mm) | 0.50 |
Downloads
Options
---
Features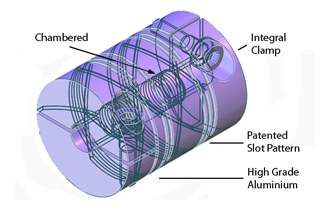 Specs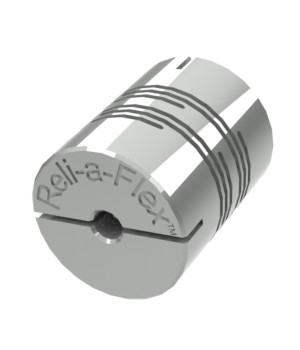 | | |
| --- | --- |
| Material | 7075-T6 |
| Backlash (arc/min) | 0 |
| Max Mass (g) | 18.7 |
| Standard bore sizes (mm) | 4, 5, 6, 8 & 10 |
| Maximum Speed (rpm) | 7,500 |
| Typical Torque Capacity (Reversing) (Nm) | 0.95 |
| Typical Torque Capacity (Non Rev (Nm) | 1.45 |
| Typical Torque Capacity (Peak) (Nm) | 2.45 |
| Torsional Stiffness (mNm/arc min) | 38.69 |
| Radial Compliance (microns/N) | 62 |
| Misalignment Parallel (mm) | 0.25 |
| Misalignment Angular (deg) | 3.0 |
| Misalignment Axial (mm) | 0.50 |
Downloads
Options
---
Features
Specs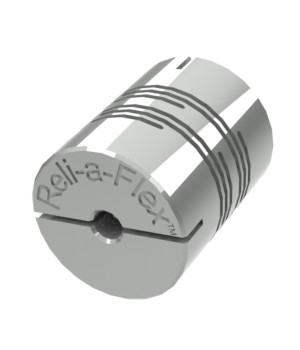 | | |
| --- | --- |
| Material | 7075-T6 |
| Backlash (arc/min) | 0 |
| Max Mass (g) | 27.5 |
| Standard bore sizes (mm) | 5, 6, 8, 10 & 12 |
| Maximum Speed (rpm) | 5,000 |
| Typical Torque Capacity (Reversing) (Nm) | 1.55 |
| Typical Torque Capacity (Non Rev (Nm) | 2.35 |
| Typical Torque Capacity (Peak) (Nm) | 3.90 |
| Torsional Stiffness (mNm/arc min) | 51.66 |
| Radial Compliance (microns/N) | 20 |
| Misalignment Parallel (mm) | 0.40 |
| Misalignment Angular (deg) | 3 |
| Misalignment Axial (mm) | 0.70 |
Downloads
Options
---
Features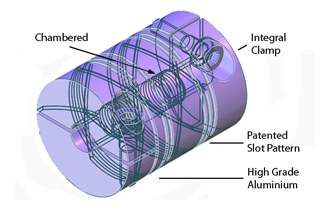 Specs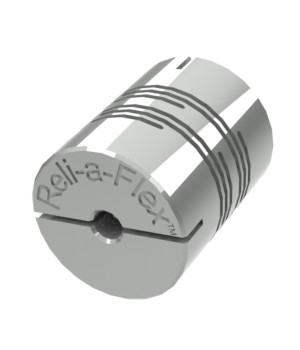 | | |
| --- | --- |
| Material | 7075-T6 |
| Backlash (arc/min) | 0 |
| Max Mass (g) | 38.5 |
| Standard bore sizes (mm) | 5, 6, 8, 10 & 12 |
| Maximum Speed (rpm) | 5,000 |
| Typical Torque Capacity (Reversing) (Nm) | 1.55 |
| Typical Torque Capacity (Non Rev (Nm) | 2.35 |
| Typical Torque Capacity (Peak) (Nm) | 3.90 |
| Torsional Stiffness (mNm/arc min) | 64.90 |
| Radial Compliance (microns/N) | 82.2 |
| Misalignment Parallel (mm) | 0.40 |
| Misalignment Angular (deg) | 3.0 |
| Misalignment Axial (mm) | 0.70 |
Downloads
Options
---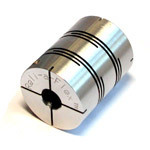 Designed to be Flexible
What happened when the engineers at Reliance were unable to find a one piece flexible coupling to meet all of their needs?
They drew on 40 years of experience and designed their own. The Reli-a-Flex range of one piece couplings has been specifically designed to provide an extremely accurate transfer of motion between two rotating shafts. Effective for parallel, angular and axial misalignments, Reli-a-Flex is the choice for accurate measuring and responsive precise motion control applications.
---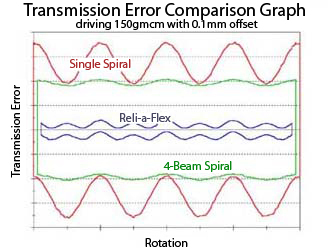 How Do You Minimize Torque Fluctuations?
With Reli-a-Flex's unique patented double slit pattern.
By smoothing the transition of torque from slit to slit as the coupling rotates introducing negligible axial and radial bearing loads. Increasing bearing life and accuracy.
Mirror image slit patterns may look similar but the pivot points move in and out and the centre piece angle varies causing stress variation and less uniform rotation.
The Reli-a-Flex coupling outperforms all other one piece couplings on the market and give predictable performance.
---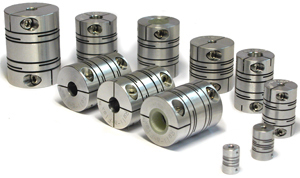 Custom Design With Predictable Performance
Reliance has a unique design, test and rapid manufacturing facility dedicated to supplying small quantities of custom Reli-a-Flex couplings quickly, cost effectively and with predictable performance.
Special interfaces can be incorporated into your design allowing for easier interaction between the coupling and other components within your assembly.
Alternative materials, including polymer and other plastics, are also available.